The Best Parts: This is super easy to use -- kids will figure out how to take pictures and videos almost immediately. It's a camera first and foremost so there aren't confusing game controls. It's super durable. It has a rechargeable battery, and uploads images easily. It's a great first camera for active kids.

Durability: Excellent. My 6 year olds EVERYTHING within days of getting them. They have had their cameras for a week and they have yet to damage them at all. They've dropped them in and out of their waterproof casing countless times, tossed them, dropped them off a 2nd story balcony, used them underwater in salt water and a fresh, and opened and closed the port covers a bazillion times. the cameras are fine. These things are super sturdy.

Quirks: There's the sound thing I listed below under video quality, and a weird quirk with the micro SD cards. It is hard to take out the SD cards -- you can't just gently push them in and have them spring out like a typical camera. Instead, you have to use a fingernail to kind of pry them out. It was worse with the pink camera than the yellow, but it's definitely odd and I worry that this will worsen as the cameras age.

Picture Quality: Not bad. Certainly better than many kid cameras. The images on this review are pictures my child took with the camera. When held very still, the picture quality is pretty good for the price -- the picture of the pink shirt is the camera held still, the picture of the fence is a more typical 6 year old kid hand jiggle.

Video Quality: Not bad if you hold your hand still. So, video taken when it was mounted to a helmet and my kid was running were impossible to see. Video taken on a smooth road when mounted to the bike or on a helmet while my kid was walking were pretty good. The only negative I saw was that the sound is all but nonexistant. We had the sound all the way up on playback and you could barely hear a person who had been speaking right next to the camera during filming. You might be best off telling your child there is no sound so the play back isn't upsetting.

Compatibility: so far we've had no problems opening the images or video files on Macs and PCs.

Extras & Controls: There are some games and frames on these , but they aren't front and center (which I really liked). There are 4 buttons on the back that let you turn it on and off and scroll through photo and video options. On the top are two buttons: video record, and a photograph button. The ease of use on this is GREAT. Kids can get the hang of it instantly.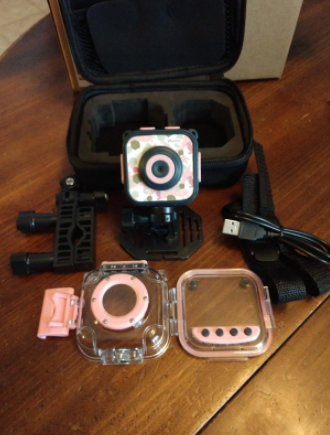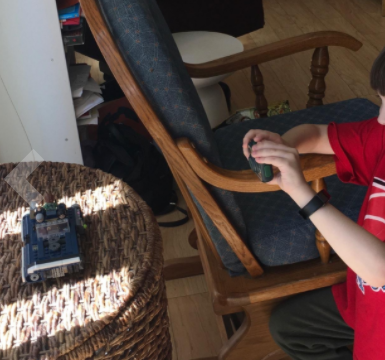 [Upgraded] PROGRACE Kids Camera Waterproof Action Video Digital Camera 1080 HD Camcorder for Boys Toys Gifts Build-in Game (Green)
Amazon.com: [Upgraded] PROGRACE Kids Camera Waterproof Action Video Digital Camera 1080 HD Camcorder for Boys Toys Gifts Build-in Game (Green): Toys & Games
#RankBoosterReview #Sponsored #PROGRACE
Updated prograce camera for kids!
Original design and manufacture by Prograce Team, we offer high quality and non-toxic safe material product to protect your kids' health. Updated design with 4X digital zoom, 3-level volume adjustment, 40 photo frames, burst shooting, time-lapse photo, face recognition, manual brightness adjustment and games to add more fun.
Easy for Kids to Use
Just have 5 functions(Playback, Photography, Setting, Video Recording, Games)for operating, it's super easy for kids to use; connect to your computer to download all of your creations (Includes USB cable).
Explore Your Creativity
This kids waterproof camera will bring more fun for your children, full develop your kids' field of vision and creativity! Move up, take your children to see the world with prograce kids camera!
How to use the TF card
1. Properly insert the TF card into the card holder in the right direction. Give it a gentle push with your nail, you will hear a small sound, the TF card goes in.
2. To remove the memory card, press the end of memory card gently, the card will be rejected.
TIPS: Micro SD Card is not included.
Prograce Digital Video Camera for Kids!
Connect to computer for better visual effects
You can see pictures/videos from this toddler camera directly or from the computer, the computer show better visual effects.
Connect to computer via USB cable to transfer photos/videos, or recharge the camera. Generally, it takes about 2.5 hours to be charged fully.
Waterproof function 5MP with 4X digital zoom Burst shooting and time-lapse photo Face recognition Manual brightness adjustment Built-in mini game 3-level volume adjustment 40 photo frames
Kids Waterproof Camera
Put this children's camera in the durable waterproof case to use underwater up to 100feet! The level of protection reaches IP68.
Bike Mount
Our kids digital camera includes a bike mount that attaches to most bicycles for taking pictures and recording videos. Also available for scooter, skateboard, helmet and so on, enrich your children's outdoor life!
Flat Mount
This kids video camera allows the video camera to be attached to any flat surface to use, recording beautiful moments in use.
Helmet Mount
Our kids underwater camera come with one Helmet Mount and two Helmet Belt, you can easy install it on the helmet.