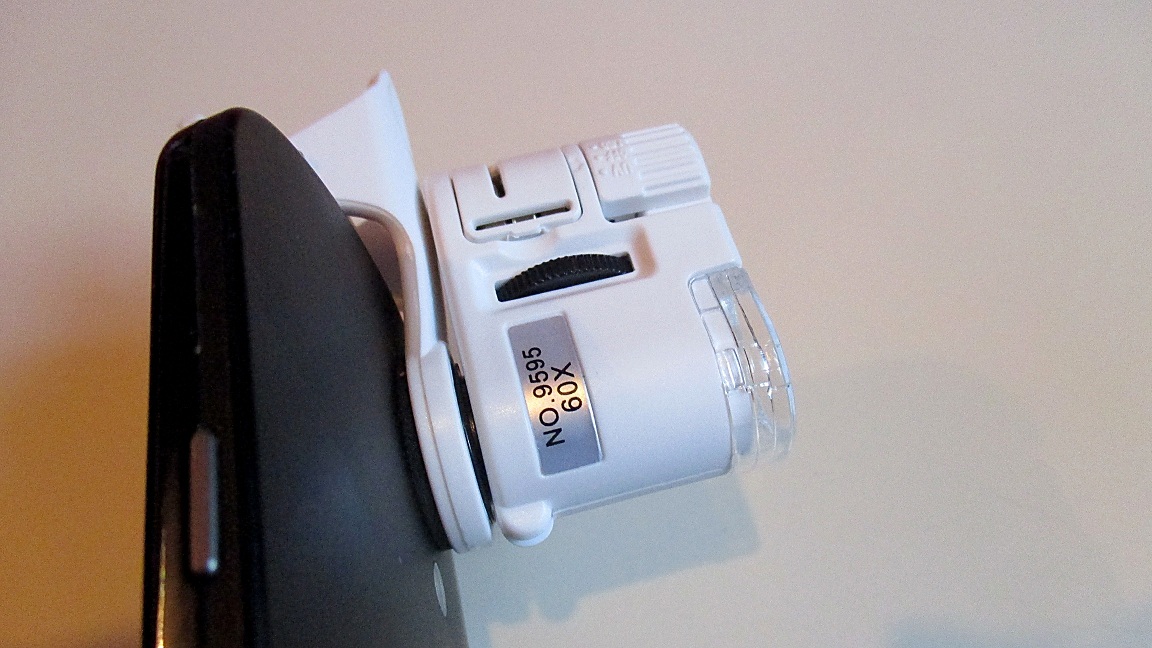 This is a little attachment for a camera phone that I was interested to try out, it's a clip on 60 magnification microscope with a built in LED light to illuminate the item being observed. This microscope attachment comes in a small printed box along with a cloth pouch and an instruction leaflet.
This microscope measures approximately 4 x 3.3 x 2 cms and weighs 30 grams and uses a large sprung clip to hold it securely over the cameras phone lens. It has a focus ring for sharper focusing and a LED light for lighting the object to be magnified plus a UV light which can be used to test a bank note's authenticity. The lights are powered by 3 x button cell batteries which can easily accessed with the removal of the battery cover.
I decided to test this attachment with an older mid ranged phone rather than a new flagship phone to show the quality of images an average phone is likely to attain. I found this microscope easy to fit over the lens and the clip did hold it securely. With a bit of focusing I got an acceptable image but note that it does have a narrow field of view as can be seen by the accompanying video. Having tested similar phone lens attachments this was something that I had expected and I'm sure the photos taken could be cropped to give a "closer" image.
For more information about this LIOPIO clip-type microscope 60X magnification phone attachment, including where it can be purchased and it's current price, please click on link below:-
https://amazon.co.uk/gp/product/B082F17VWT

#RankBoosterReview #Sponsered #LIOPIO