My husband loves these pillowcases! He gets very hot when he sleeps and these tend to keep him cooler. They wash up great and seem to be nice quality.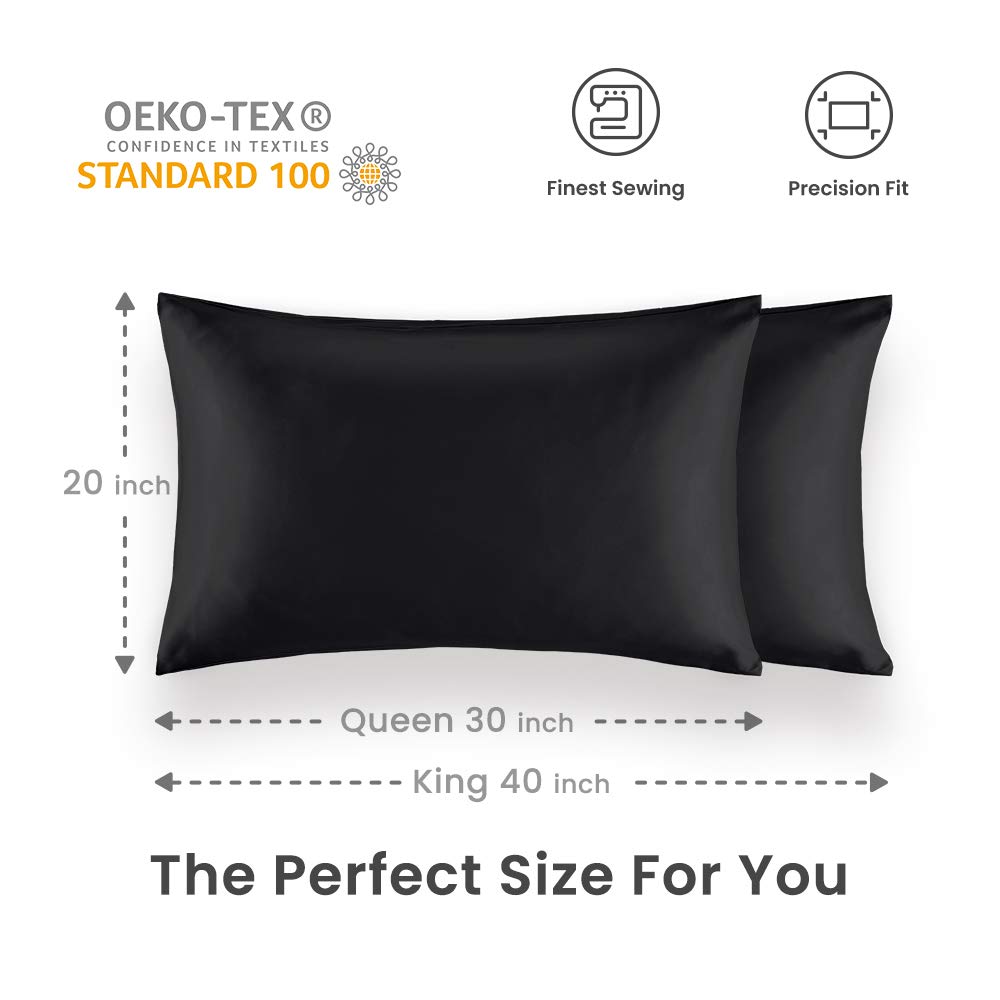 SLEEP ZONE Satin Pillowcases Temperature Regulation Set of 2 for Hair and Skin Standard/Queen 20x30 Pillow Cover (Queen, Black
100% Polyster Satin Fabric HAIR/SKIN-FRIENDLY & ENVELOPE CLOSURE: Tames your Hair While you Sleep. Our Satin Pillowcases are silky soft against your skin, reducing facial creases and wrinkles. It will not absorb moisture to help retain your shiny hair, that maintain your skin soft and moisturized, keep your hair safe from harm, breakage, tangling and snagging. Available in our signature back envelope closure and a traditional side open style design prevents your pillow escaping from pillowcase during your sweet dream. TEMPERATURE MANAGEMENT: Pillowcase designed with new NANOTEX Coolest Comfort Technology. Fabrics treated with this advanced system actually balance your head temperature and leaving you a cooler and comfortable sleeping surface. Also it will lasts the life of the product and also enables the fabric to maintain its softness and breathability. Its suitable for people with more sweat. The cooler you are when you sleep, the less you'll sweat, which will also help the overall health of your skin. SILKY-SOFT & DURABLE: Our Pillowcase is made of 110gsm highest quality/over-thick/Ultra-soft Satin Fabric for ultimate softness and comfort to you all the year round. Its more durable, softer and thicker than most of the market's 90gsm's. It offers long-lasting strength, resistance to shrinking and wrinkles, and a noticeably soft hand feel that allowing it to effortlessly withstand repeated laundering. If you are looking for a soft and durable pillowcase, it will be your perfect choice. VALUE & QUALITY: Sleep Zone has everything you need to help build a healthy, cozy and comfortable haven in your bedroom. We concentrated on every detail to ensure them designed perfectly. We developed this pillowcase with Nanotex cooling technology. Available in a large array of colors to suit anyones taste, simply and easily changes from season to season.It uses high-quality fabrics, exquisite craftsmanship and coolest comfort technology to create a good sleeping environment for you. SATISFACTION PROMISE: We are Oeko-Tex Standard 100 certified. Any questions, please contact us. It's a wonderful gift idea for men and women, Moms and Dads, Valentine's, Mother's Day, Father's Day, Thanksgiving and Christmas.
https://www.amazon.com/dp/B07V9LVPT2