Received the 12 Nightkonics on Monday and 8 Powxs on Tuesday. I have used Tenergy, EBL and Bonai in the past and still using some of each. I have thrown many of them away because after one or two uses they would not charge. So, purchased the above title brands and upon receipt 1 of the 12 Nightkonics was DOA and would not charge after 8 hours on the charger. However, if the remaining ones hold up, it is still a good value. Just received the Powxs and placed them in the charger, and all of them have begun charging. The Powxs have been in the charger less than 10 minutes and all 8 batteries are almost fully charged. The 11 remaining Nightkonics took all day yesterday to reach full charge. I use the AAA for under cabinet puck lights, remote weather station and remotes. As you can see in the picture the 1 of 12 Nighkonic is not charging, the 8 Powxs are all charging . While finishing this review all 8 Powxs batteries are fully charged. The Powxs batteries are the only brand that have charged this quickly, all other brands listed took a long time to bring to full charge. So far the Powxs are more impressive in initial charging than any brand I have used. I'll come back and update this review in the future after using and recharging the batteries to see how they hold up over time.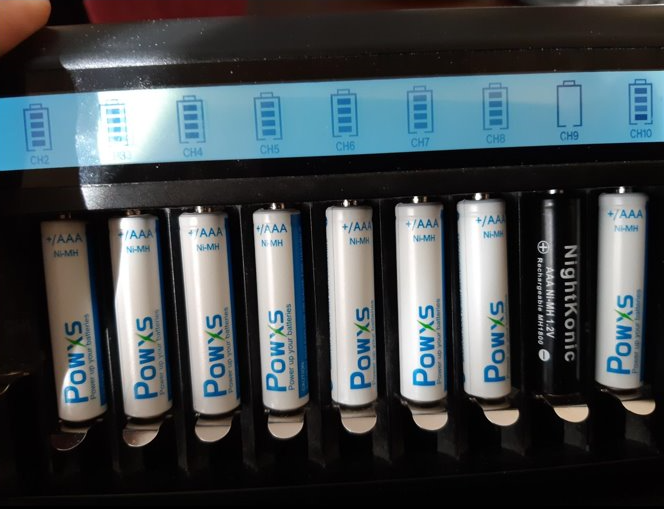 POWXS 8 Pack AAA Rechargeable Batteries,1.2 Volt 800mA NI-MH Batteries Up to 1200 Cycle Times
High-Efficiency
These batteries are rechargeable batteries. they can be recharged to full power for the next use when they out of power. Save the hassle of buying batteries repeatedly. One battery is comparable to multiple batteries.
Self-Discharge for Years
POWXS Unique Low self-discharge technology keeps the battery always at a high capacity status, maintains 75% of the capacity even if not used for three years.
1200 Cycle Times
The battery has a long service life and can be recharged up to 1200 times, the energy conversion efficiency is extremely high.
Protect Environment
Do not contain Hg, Cd, Pb those harmful metal substances, so these batteries are harmless for our environment and can be recycled. Love our Environment start with small things.
Wide Compatiable
Powxs high-quality aaa battery ultra-fit for all aaa powered devices, such as toys, flashlights, alarm clocks, remote controls and other electrical equipment.
PreCharged- Ready to Go
These AAA battery is pre-charged and you can use right now while you get them, no longer waiting to charge first. Note, these precharged batteries are not fully charged, so suggest charging them first for a long use.
POWXS AAA Rechargeable Batteries - 800mAh 1.2 Volt Triple A Ni-MH Batteries - Long-Lasting Standard AAA Size Batteries for Household Devices - 8 Pack
https://www.amazon.com/dp/B07XR8HNRH