I got this product because I heard it supposely gives you a sense of security and comfort so wanted to give this a try.

Product wise, it feels really well made. Stitching is not loose or brittle, and the fabric feels like a firm sheet of cotton that can handle the tension by hand grip under its (15LBs) of weight. The thickness and density is about a fluffy comforter compressed into 1-1/2 inch. This is NOT fluffy but is rather flat where it has squared segments for the sand throughout the blanket. The blanket does not come with a cover of any kind so you will have to buy one seperately.

Now my personal experience as a first time user, as a man who is 5'7 at around 150LBs, and doesn't really lift weights. This 15Lb blanket feels heavy to me. It is around the same weight as a 15lb dumbell. When I first used it, the first thing I noticed is how to sand inside tends to bunch up into 1 side of each square. I thought it would be an evenly flat blanket but this is not the case. I can actually feel the indivual squares as flat balls pressing against my body. I did not like that feeling. It gives it an uneven thickness to the blanket where this only good to use on top of your body. It feels very uncomfortable if it was under you as it feels like you are laying on uneven ground with rocks.

It could just be me since I use blanklets as thin as bed sheets to blankets as thick as towels so I am not used to moving 5-5-15 Lbs of weight every night and morning. I find it hard to get this to my sweet sleeping spot due to the weight. It is almost like an actual work out, especially when one arm or leg is involved. Surprisingly this blanket does not get me hot or sweaty despite of being thick and have lack of air flow. But then again, the size of this is rather small in proportion to my body size.

Would I recommend this? Yes, but it is not for everyone. I do not recommend weighted blankets If you are the type to move around ALOT at night, favor thin sheets like me, have a hard time getting up in the morning, or someone who is feather strenght weight. You may either want to get a lighter weight blanket but that means the coverage is smaller.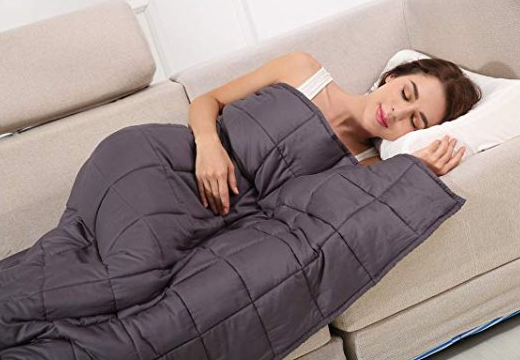 D&Y Home Collection Weighted Blanket
https://www.amazon.com/Home-Collection-Weighted-Blanket-Adult/dp/B07ZK73WTZ/ref=sr_1_4?keywords=D%26Y+Home+Collection+Weighted+Blanket&qid=1577115535&sr=8-4
#RankBoosterReview ii. #Sponsored iii. #D&H