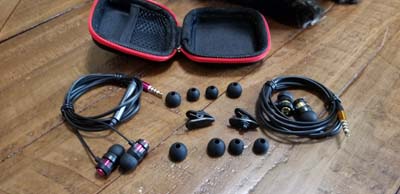 It was once again time for more earbuds in our home, so once more I found myself trolling the review sites to see what was available to help restock our drained supply. I am still amazed at how fast we go through earbuds around here, but things have slowed down compared to in the past, so for that I am thankful. Hopefully these earbuds and the others I found will last us awhile. This review is probably like many others I have done on earbuds and is almost identical to others I am posting on this site, so forgive me now. There is not much you can say when they seem to have about the same performance and clarity.
This set of earbuds comes with two in the package. They do include a zippered carrying case for storing them between uses, with a small pouch in the side that you can store the extra earbud tips and clips in. The earbuds come in two different colors - black with pink accents and black with gold accents. I liked how vibrant and colorful these were though. The color really popped! Each set of earbuds also came with adjustable tips you could change out if you don't like the ones on the earbuds that it ships with.
These are easy to use and have pretty decent sound quality. My youngest had no problem with using them. He plugged them in to his Xbox controller and was easily able to communicate with people in Fortnite, Roblox, and whatever other games he plays online, which is the main reason he likes to use earbuds. He had no trouble communicating with others or hearing what was going on. He said they were nice and clear and worked great. He has also been using them for his cell phone to watch YouTube videos, which I appreciate since I don't want to listen to what he is watching since I usually have something already playing, too.
They say they are bass earbuds with noise canceling, but we didn't notice any controls for bass options nor any difference when listening compared to others without bass. And we can't comment on the noise canceling aspect really, since we don't hear what the other side is hearing so can't say what background noise or other sounds get through along with him talking. But you don't pick up interference or other things with them, so that much is good.
So far these are working out great! Not bad for a 2 piece set of earbuds for under $10!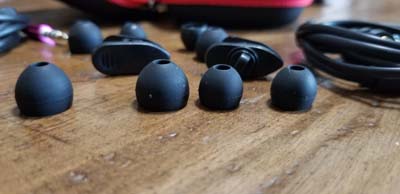 Get yours here:
https://amzn.to/2Z5CW8W
#yadesign #earbuds #earphones #wiredearbuds #listentomusic #earbudswithmicrophone #earbudswithmic #noisecanceling #noisecancelingearbuds