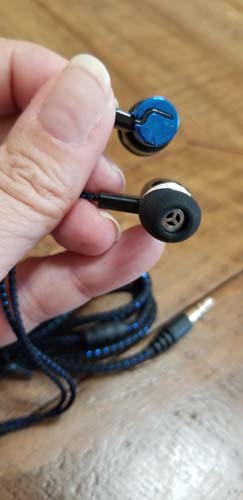 Time for yet another group of earbud reviews, so as usual I apologize content similar to previous earbud reviews and the various ones I post now. We had almost no luck with all of our recent earbuds, so I am sorry to say they are all pretty much the same review. They all had poor results and were not worth the money to buy since you can get the same quality from the dollar store.
This set of earbuds is wired with a 3.5mm jack plug. They are not plastic coated on the wiring but rather the braided cable, with some really pretty blue stitching throughout that makes them really attractive, and have shiny blue caps on the earbuds themselves that I am really liked the look of. You can get them in blue, green, red, silver, and gold. I got the blue earubds to try out. They do NOT have a microphone, though, which is something my kids look for in earbuds.
These are easy to use but have very poor sound quality. My oldest didn't like the way they felt in his ears at all, but was willing to try them. My youngest decided to try them out to see if he had better luck and plugged them in to his Xbox controller but decided he didn't like the sound he was getting from the game and immediately unplugged them from the console. He said they were very tinny and echoed. Since they do not have a microphone, neither of the boys like using them for their gaming purposes. But they both watch a lot of YouTube vidoes, Netflix on their phones, and listen to their Spotify playlists, so were initially willing to use them for those purposes. But, one earbud cut out within less than a day. My son continued using them a few more days and then exchanged them for other earbuds we had received and put them back in the drawer as backup. Regardless, they aren't getting used in our home unless there is nothing left to use.
This is definitely not a pair of earbuds we will be picking up again in the future. I wouldn't even use these in a classroom at school for backup earbuds for kids who forgot theirs. You can get better earbuds for just a few dollars more. Blue earbuds: https://amzn.to/32xu1ww
#RankBoosterReview
#sponsored
#fanala
#earbuds
#inearheadphones
#inearheadphones
#headphones
#listentomusic