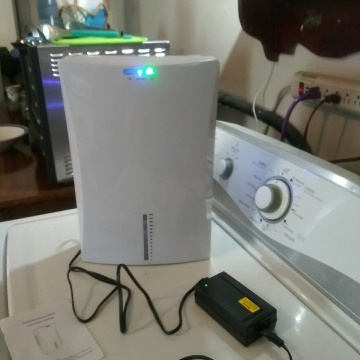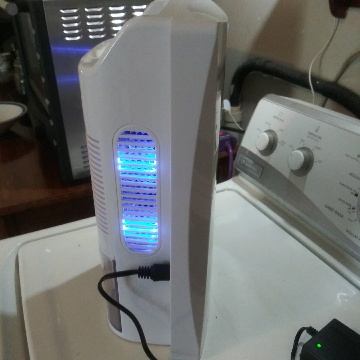 Right off you see the quality here. ABS plastic, two Liter tank capacity, 2.4 meter cord, lightweight and portable, High dehumidification volumn capacity per day!! Recommended for over 40% humidity.
This portable dehumidifier is a bit unique in one way with a fresh air feature. On the sides of the unit it has air ventilation fans that have uv sanitizing. It works while it's dehumidifying.
Every winter I suffer mold allergies with moisture forming mold in the windows and on the floors of the closets. It's a constant battle.
I was using the chemical moisture aborbers but this dehumidifier is way more economical! It extracts a thousand times more water than those chemical absorbers do!
Before those I had a giant, heavy, whole house unit...until the compressor died. This portable dehumidifyer doesn't have a loud compressor to die. It uses a different, yet effective technology.
It works as well as those whole house types (it just needs to be emptied more often), AND has air freshening technology.
It has a very nice long cord to reach, a generous hand hold cubby at the top to easily carry it, and it's pretty quiet. It has a little fan sound but not loud. I can move it to any place I need to in the house with ease. It takes up barely any space.
It looks nice too.
This is a no brainer option for my old house in the winter. I am excited about not suffering from mold this year and not spending a fortune on less effective methods.
A couple of other good features it has are the auto shut off, and the water level viewer on the front.
I would have been happy even if it didn't have the fan but that was a bonus feature.
I'm ready winter!! ;-)
#dehumidifier #fan #portable #UV
#ViralixReview #Sponsored #LATITOP
https://amzn.to/35TiLMN