This is a nice quality pointer that would be perfect for a teacher or school play set. My daughter loves pretending to be a teacher and thsi was a great addition to her stash of supplies.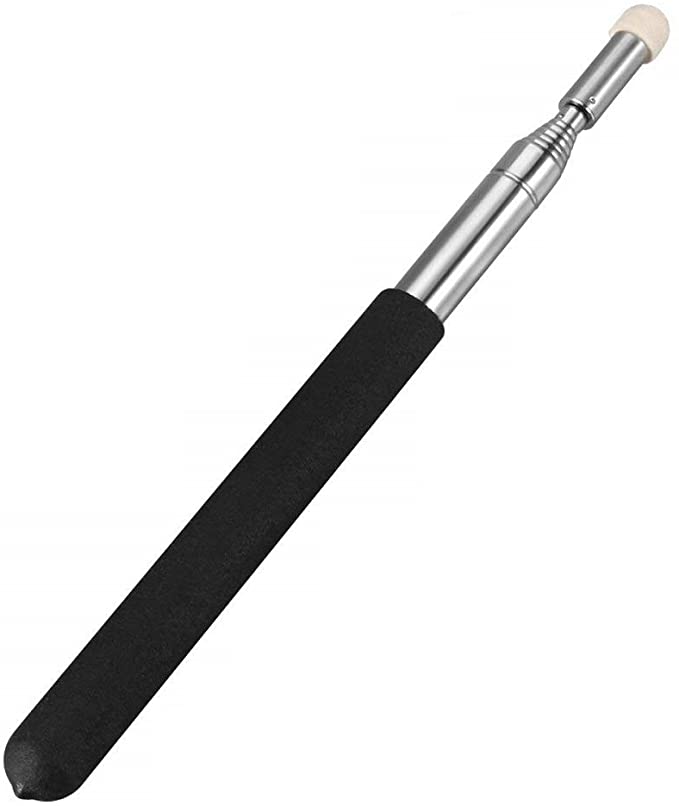 Telescopic Teachers Pointer,Teaching Pointer,Hand Pointer Extendable Telescopic Retractable Pointer Handheld Presenter Classroom Whiteboard Pointer (1)
· ✔Pointer is professional telescopic electric whiteboard Teaching Pointer & Guide Flagpole, Work on Traditional Blackboard, Electric Whiteboard, PPT, Large Display Screen, It's a ideal pointer for school educational or training course instruction.
· ✔The portable pointer is made of stainless steel rod and ABS plastic handle and white soft mushroom felt NIB. Since the front end of the soft felt does not damage the screen, it feels great.
· ✔Seven section shaft design, each section close convergence, stablity and no shaking, can be flexibly adjusted. (Note: The seven section rod comprises the handle position).
· ✔Our teachers pointer's constriction length is 8.3 inch, extension length is 39.4 inch, handle length is 5.3 inch, easy to carry and store. The size is suitable in the hand, feel comfortable.
· ✔Suitable for Teachers, Guides, Couch, Conference training, Speech, Conference sand table, Sales staff, Commander, Explanation member and so on, effectively point out key information when presenting or teaching.
https://www.amazon.com/Telescopic-Extendable-Retractable-Presenter-Whiteboard/dp/B07K5W2DTZ/ref=sr_1_1?dchild=1&keywords=Telescopic+Teachers+Pointer%2CTeaching+Pointer%2CHand+Pointer+Extendable+Telescopic+Retractable+Pointer+Handheld+Presenter+Classroom+Whiteboard+Pointer+%281%29&qid=1588282261&s=home-garden&sr=8-1