I absolutely love this set! I've ordered a few felt letter boards in teh past and this one is by far my favorite. The letters are so cute with glitter and emojis. There is even a removable dart board and little velcro balls! The stand and board are very good quality. It's a great gift for anyone. Love it!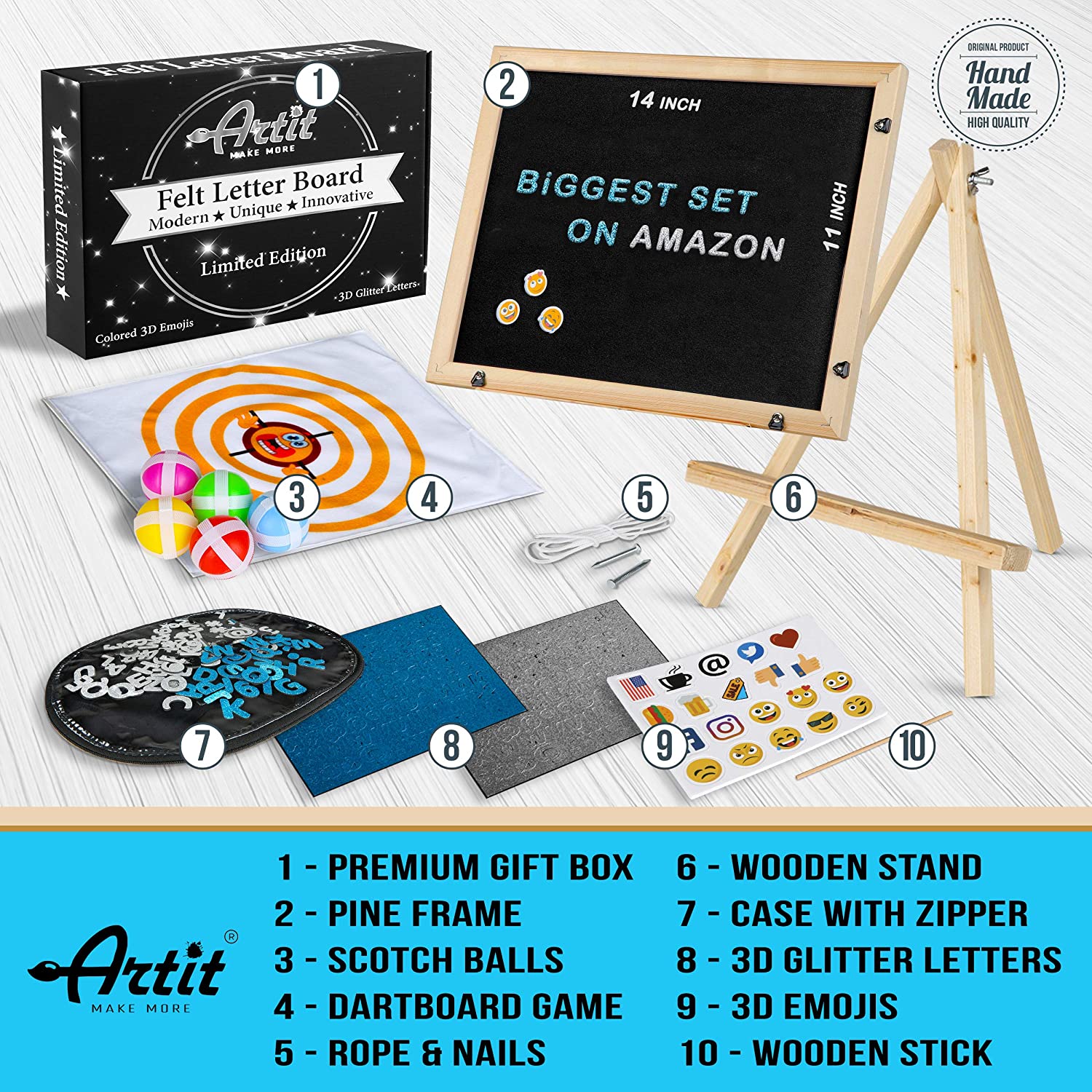 2020 Upgraded Felt Letter Board Set 11x14' Double Sided Black Purple Changeable Message Sign Board with 3D Glitter Characters, Colored Emojis, Removal Dartboard Game, Wooden Frame, Stand and Gift Box
ET YOUR REVOLUTIONARY, LIMITED EDITION, UNIQUE ARTIT® FELT LETTER BOARD TODAY!
ENDLESS USES:
A creative gift idea DIY craft projects & artworks Motivational & inspirational sentences Children awesome leisure fun Practical education exercise Beautiful informational bulletin Catchy cafe, bar, pub, restaurant memo or menu Shop showcase deal Family chores & lists Facebook, Instagram, Twitter & other social media quotes & tags Birthday congratulations Weddings & engagements Pregnancy announcement Baby shower, a welcome sign or gender reveal party Bachelor's/bachelorette/bridal party Christmas or any Holiday/milestone celebration
YOU GET:
Stylish gift-ready box 11X14 in double-sided, black & purple felt board Premium pine frame with 4 built-in hanging hooks Wooden easel stand Wall nails and hanging rope 1 mold of 245 3D precut glitter silver stars letters, number & symbols 1 mold of 245 3D precut glitter silver letters, number & symbols 20 colored 3D emojis, sighs & smilies 1 transparent case with a zipper 1 dartboard shooting aim game repositionable cover 3 shooting play balls 1 brochure with tips, uses & instructions
https://www.amazon.com/dp/B07D7XPWHD