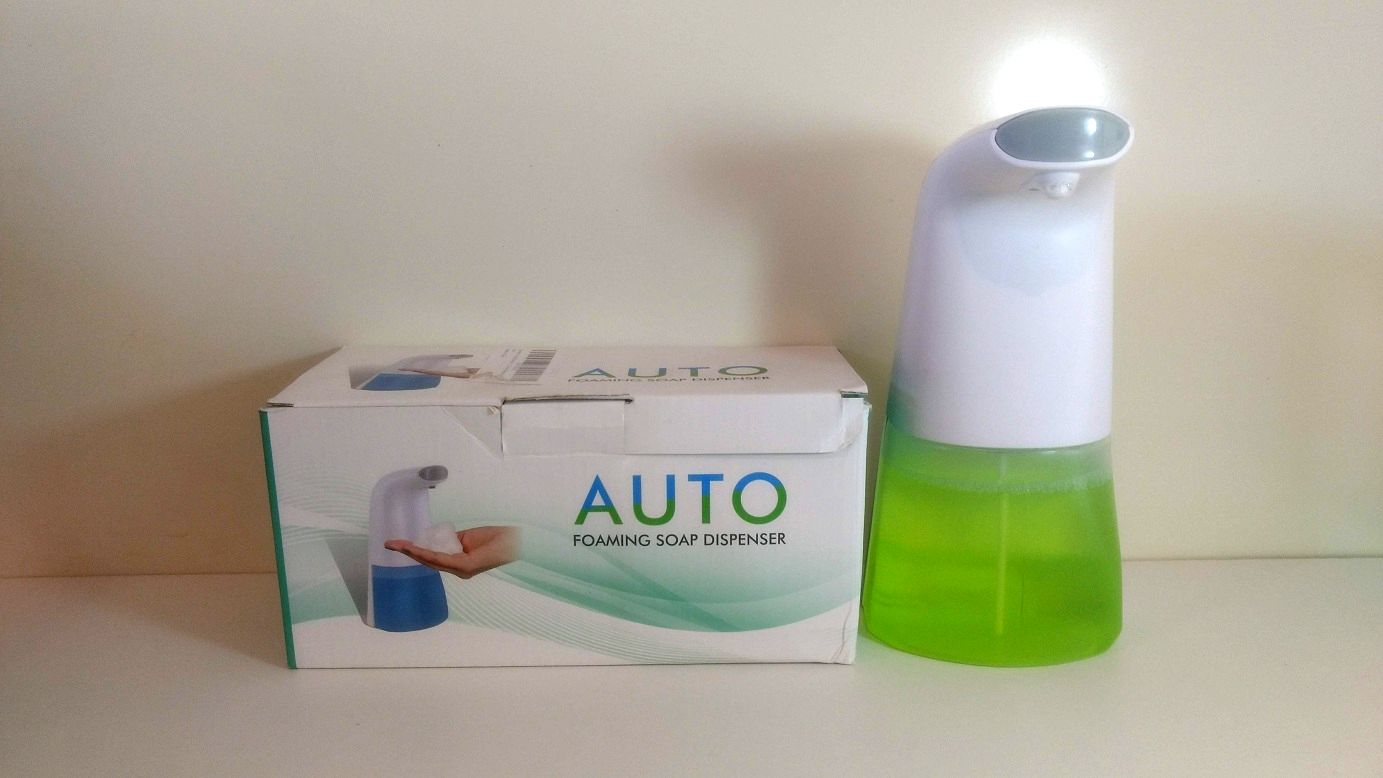 Although I prefer bars of soap I understand that many people like liquid soap especially if they have to share the soap with other family members. I've usually found that the pump action liquid soaps tend to get sticky and grotty around manual pump. So with that thought I decided to try an automatic liquid soap dispenser where you do not need to touch it at all as it has a motion sensor which activates the electric pump when you put your hand under the dispensing hole.
This one from Beedee interested me because it has a useful sized soap tank plus it is rechargeable via any USB port such as a computer, games console, mains adaptor plug, power bank etc.
The box it comes in also includes a instruction leaflet, a soluble soap tablet, USB Type A to small barrel pin charging cable and a self adhesive silicone hook.
When setting this up I found the instruction leaflet not very clear especially regarding the fitting of the bung/soap feed tube but eventually sussed it out myself. I would suggest that the sellers update the leaflet which would make the setting up a lot easier.
Also the leaflet states that you get liquid soap with this dispenser but you don't, instead you get a foil sachet containing, what I assume is, a soluble soap tablet which no instructions at all about how much water you need to dissolve it in. Luckily I had some liquid soap and mixed it as per the instructions 1 part liquid soap to 2 parts water and this seemed to work well.
Once charged and with the filled soap tank fitted long press the power button and a blue light flashes to tell you it's switched on. This has two modes of dispensing soap mode 1 = a small amount of soap, mode 2 = twice the amount of soap as mode 1. To set mode 1 short press the power button and the blue light will flash, to set mode 2 short press the power button and the green light will flash.
I've put my dispenser in the kitchen and I've found it very useful for cleaning my hands before and after I've prepared food and I like the way it foams the liquid soap which seems to make the hand cleaning time a quicker process.
For more information on this Beedee Rechargeable Automatic Soap Dispenser, including it's current price and where you can buy it, please use the link below:-
https://amazon.co.uk/gp/product/B0892BRRST
#RankBoosterReview #Sponsered #Beedee